Goodreads
2.49.5
A Great Book App for Cultivating a Book Reading Habit
Books have always been an important part of developing our brains. Books help us learn new concepts, explore different kinds of literature and understand the various cultures all around the world. There have been so many books written by so many authors that it is difficult to keep count. With multiple genres and multiple publishing houses, there is just no way to keep details of all the books for a person. This is where a good quality book app can do wonders. Whether you are an avid book reader who wants to find new books or a beginner who wants to cultivate a habit of book reading, having the right book app can prove extremely vital. This is because a good book management app would help you explore different book genres and help you find out what books are highly revered amongst those who have read them. Goodreads is one of the best book review and book exploration platforms available online and its book app is also extremely well-developed. With easy navigation and superb app structure, the app delivers on its promise of helping you find books of your interest with the tap of a button.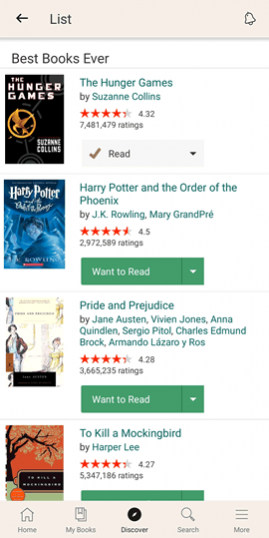 Goodreads is extremely stylish and cultured as a platform and this shows in its app as well. The serene app environment as soon as you launch it proves that this is no ordinary app. The app is your guide to the world of books and if you regularly spend time on the app, you would fall in love with a vast variety of books as well. The app first requires you to login or signup (depending on whether you already have an account with the book app or not). Afterwards, the app requires you to choose your favorite book genres, review books you have already read and decide on users you would want to follow to know about their reading activities. The book app also asks you to set up your own book reading goal for the year so that it can keep reminding you about it and so that it can keep motivating you as well.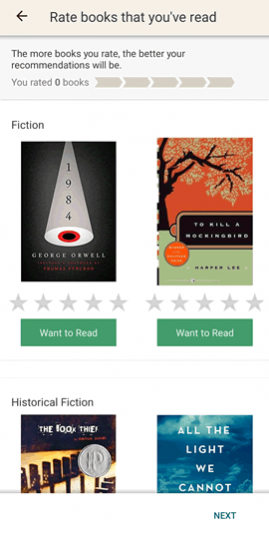 The most important thing for any quality book app is superlative navigation. Goodreads nails this aspect as it has an extremely well-governed and well laid-out navigation system. The app has five tabs namely Home, My Books, Discover, Search and More.
Home is the 'section' where you will see activities of the accounts that you have followed including what they have been reading, how they have rated a book and how they have reviewed a given book. My Books is where you will see the books that you want to read and the books that you have already read and/or reviewed. You will also see your book reading challenge score for the year here. Discover is the section where you will find book news, author interviews, and book lists created by different users. Search is the section where you can look for books by genre with subcategories available to help you in finding the right book. The app's 'More' section is where you can explore your own profile, take a look at giveaways, see top picks recommended by Goodreads for you, and see the best books of the preceding year etc.
Features:
Cultured and stylish app design
Extremely easy navigation of books
Great assortment of author interviews and book release updates
Great user community that helps you in finding the right books
Fantastic reading challenge that motivates you to read new books and build a reading habit
Conclusion:
Goodreads is a great book search and book review platform with a very vibrant community. Good app design, fantastic app navigation and superb variety of books make this book app the best option for all the book lovers out there!
RELATED PROGRAMS
Our Recommendations
---
---
---
---